Amadigi di gaula
George Frideric Handel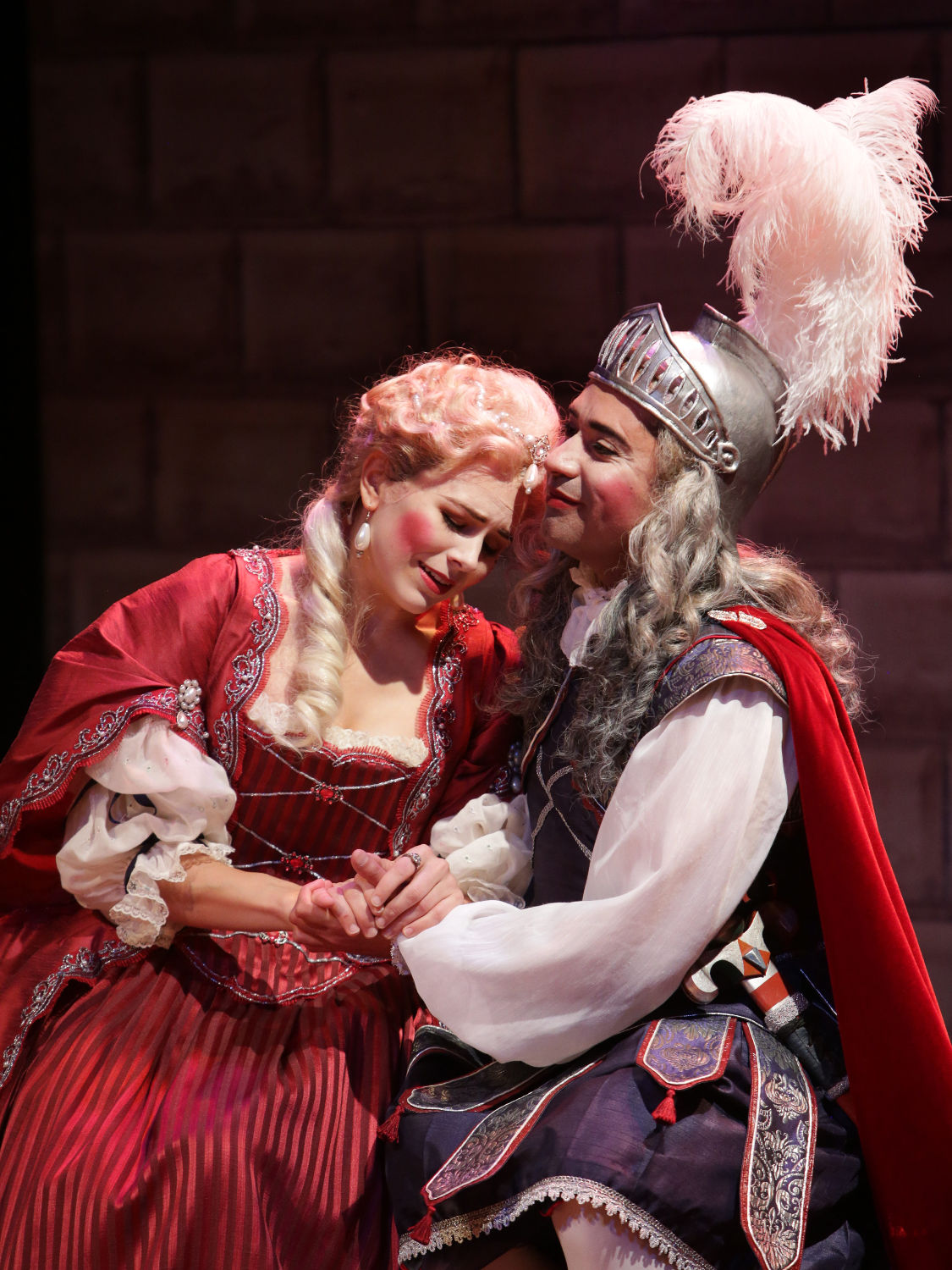 Program available for download.
Cast
José Lemos, alto, as Amadigi, a Paladin in love with Oriana.
Alex Edgemon, alto, as Dardano, Prince of Thrace, also in love with Oriana.
Erica Schuller, soprano, as Oriana, daughter of the King of the Fortunate Isles, in love with Amadigi.
Suzanne Lommler, mezzo soprano, as Melissa, a sorceress in love with Amadigi.
Furies and Shepherds danced by Julie Bernirschke, Joseph Caruana, and Kali Page.
Julie Bernirschke is a classically trained ballet dancer who began her schooling in Seattle, WA at the Washington Academy of Performing Arts under the direction of Deborah Hadley and Vera Altunina. In high school she studied on scholarship at San Francisco Ballet School and had multiple opportunities to perform and rehearse with the company. In 2004 Julie graduated from Indiana University's School of Music with a B.S. in Ballet Performance and a B.A. in Biology, studying under such teachers as Violette Verdy, Julie Kent, Susan Jaffe, Susan Pilarre, and Guoping Wang. Upon graduation Julie went on to dance professionally with Louisville Ballet and Los Angeles Dance Theater. She was invited to tour to China with John Clifford and Warner Bros. Studio's collaborative musical-dance production of "Casablanca, the Dance". For the past 10 years Julie has also enjoyed teaching ballet to students of all ages in both Minnesota and Peoria, IL where she is currently a principal artist with Central Illinois Ballet. Julie recently moved to the Chicago area and is busy freelancing in numerous dance projects as well as dancing professionally with Noumenon Dance Ensemble. She is very excited to be performing with the Haymarket Opera and to be adding baroque dance to her repertoire.
Joseph Caruana is a co-director, choreographer, and dancer with Elements Contemporary Ballet. He has had his choreography presented in the Dance Under the Stars Choreography Festival, The Best of Dance Chicago, Looptopia, Harvest Chicago Contemporary Dance Festival, SpinOff, Juicebox, DanceChance, On the Prairie at the Chicago Cultural Center, and as part of the Chicago Department of Cultural Affairs and Special Events' DanceBridge program. Caruana was awarded an Illinois Arts Council Artist Fellowship in 2014 to develop his original ballet for Elements, The Sun King, A Contemporary Ballet in One Act, which premiered at the Jay Pritzker Pavilion in Chicago's Millennium Park. Most recently he co-choreographed and co-conceptualized AYA, An Aerial Ballet at the Athenaeum Theatre in collaboration with Aerial Dance Chicago. As a dancer he has performed with River North Chicago Dance Company, Pacific Northwest Ballet, Spectrum Dance Theatre, Sonia Dawkins/Prism Dance Theatre, the MasterWorks Festival, Civic Ballet of Chicago, Evanston Dance Ensemble, Ballet Legere, and in numerous trade shows, as well as worked in TV and film. In addition to studying with Elements' Artistic Director Mike Gosney he trained on full scholarship at the Pacific Northwest Ballet School Professional Division and with The Performing Arts Center in Los Angeles as well as attended workshops with the Boston Ballet, the Joffrey Ballet, Alonzo King's LINES Ballet, and the Lou Conte Dance Center.
Countertenor Alexander Edgemon, a native of Big Spring, Texas, was the American Traditions Competition 2015 Gold Medal Winner and a featured soloist with the Chicago Arts Orchestra. Edgemon was a featured soloist in 2013 with the Orchestra of New Spain. In 2012, he sang the roles of First Priest and First Inquisitor in Philip Glass' Galileo Galileo with Madison Opera. Edgemon has performed the roles of Cherubino in Corigliano's The Ghosts of Versailles, Oberon in Benjamin Britten's A Midsummer Night's Dream and Orfeo in Gluck's Orfeo ed Euridice. Other soloist performances include The Messiah, St. Matthew Passion, Mass in B Minor, Carmina Burana, Requiem (Mozart), Gloria (Vivaldi), and Chichester Psalms (Bernstein). He is a graduate of Northwestern University where he received a Master's degree in Vocal Performance and Literature and a Certificate in Performance and from Texas Tech University in Lubbock, Texas, where he received Bachelor Degrees in Vocal Performance and Music Composition.
Countertenor José Lemos won the 2003 International Baroque Vocal Competition in Chimay, Belgium. In 2014 Gramophone Magazine featured his solo album performance, Io vidi in terra, saying "Lemos has effortlesstechnical agility and uncanny word-painting", while Early Music America Magaizine has described Lemos as "…a countertenor with a rich timbre, flexible, agile and with an impressive range, with a seamless transition from head to chest voice which gives him enormous expressive strength." A native of Brazil and Uruguay, he has appeared in operas across the globe: Tanglewood—Britten's A Midsummer Night's Dream (Oberon), Boston Baroque—Handel's Giulio Cesare (Julius Caesar), Zürich Opernhaus—Giulio Cesare (Nireno) and Agrippina (Narciso), Buenos Aires—Monteverdi's Poppea (Arnalta) and Xerxes (Arsamene), Seattle Early Music Guild—Poppea (Ottone), Göttingen Handel Festival—Giulio Cesare (Tolomeo), in five productions with Boston Early Music Festival - Lully's Psyche (Silène), Purcell's Dido and Aeneas (Spirit), Steffani's Niobe (Nerea), Monteverdi's Poppea (Nutrice) and Ulysse (Pisandro), Opera de Nice—Scarlatti's Tigrane (Policare), and Vlaamse Opera—Handel's Agrippina (Narciso). He has also performed with William Christie's Les Arts Florissants at Lincoln Center and throughout Europe. In concert he has sang as soloist in prestigious concert halls such as Avery Fisher Hall and Carnegie Hall in New York, Barbican Hall and Royal Festival Hall in London, Salle Pleyel in Paris, Auditorio Nacional in Madrid, and Concertgebow in Amsterdam. In addition to opera, he tours in recital of baroque arias with harpsichordist Jory Vinikour and thorbist Deborah Fox, and in repertories of renaissance music with The Baltimore Consort. Haymarket Opera production of Handel's Amadigi di Gaula marks his Chicago debut.
Mezzo-soprano Suzanne Lommler was recently a soloist with the Waterloo-Cedar Falls Symphony in a Mozart Soirée and with Orchestra Iowa in Bach's St. John Passion, both broadcast on Iowa Public Radio's "Symphonies of Iowa" program. She also soloed with the Indianapolis Symphonic Choir and Indianapolis Chamber Orchestra in the Bach Magnificat and appeared in the film "Kharmen," by Jay Bolotin. Suzanne sang the roles of Melide in Cavalli's Ormindo (Pittsburgh Opera) and Cherubino in Le Nozze di Figaro, Second Lady in Die Zauberflöte, and Dorabella in Così fan tutte (Hamburger Kammeroper in Germany). Her New York City debut was as Annio in La Clemenza di Tito, conducted by Julius Rudel. She sang in recital at the Handel House Museum in London, in Hamburg's Opernsalon series, and on tour in Scotland with the Edinburgh Quartet. As a soloist, she has appeared with the Kansas City Symphony in the Bach Magnificat, with the Cincinnati May Festival in Britten's Rejoice in the Lamb, conducted by James Conlon, and with the Bloomington Early Music Festival. She has been a member of the Ravinia Festival's Steans Institute and the Tanglewood Institute. Other performances were with the Spoleto Festival in Italy, Cincinnati Opera, Portland Opera Repertory Theatre, Florida Grand Opera, Utah Festival Opera, Garsington Opera, the Glyndebourne Festival Opera, and Glyndebourne on Tour. Suzanne received her Master's degree from the Manhattan School of Music and Bachelor's from the University of Cincinnati College-Conservatory of Music and currently studies with Marie McLaughlin.
Kali Page is originally from Cornelia, Georgia, and she began her dance training with Annette Lewis in Atlanta with Good Moves Dance Consort. She is a graduate from The University of the Arts in Philadelphia, where she obtained a BFA in Modern Dance Performance. She has performed works by Romeo Castellucci, Andrea Miller, Michelle Mola, Meredith Glisson, Sidra Bell, Helen Simoneau, and Lauri Stallings. Her additional studies include the Jose Limon Summer Intensives, Salt Dance Fest, University of the Arts Dance Study Cycles, and Festival D'Avignon. During her time at Uarts, Kali traveled to Centre National de la Danse in Paris, France and The Royal Conservatoire of Antwerp in Belgium for choreography and collaboration exchanges.
Soprano Erica Schuller has been praised for her "lively personality, abundant charm, and luscious vocalism" (Chicago Tribune), and for performing with "grace and strength" (Milwaukee Journal Sentinel). She has performed leading and supporting roles with Boston Early Music Festival, Haymarket Opera Company, Florentine Opera Company, and Skylight Opera Theatre, among others. As a soloist, Ms. Schuller has appeared with Milwaukee Symphony Orchestra, Elgin Symphony Orchestra, San Francisco Chamber Orchestra, San Francisco Bach Choir, Second City Musick Baroque Ensemble, and Ensemble Musical Offering. Previous Haymarket productions include Vespetta in Telemann's Pimpinone and Lisetta in Scarlatti's Gli equivoci nel sembiante. This past season, Ms. Schuller created the roles of Joan Strasinsky/Princess in world premiere of the newly composed opera The Snow Dragon by award winning composer Somtow Sucharitkul, her singing described as "ethereal" by Broadway World Magazine. She will reprise these roles in Thailand with Opera Siam this July. In addition, she starred as Livietta in Boston Early Music Festival's production of Pergolesi's Livietta e Tracollo. She returned to perform several roles with Festival in their presentations of Monteverdi's three surviving operas this summer. Ms. Schuller also made her debut performance with the Elgin Symphony and Master Chorale as the soprano soloist in Poulenc's Gloria, and was a featured performer with Second City Musick, singing English Renaissance consort songs. Operatic highlights include Armida in Handel's Rinaldo, Pamina in Mozart's Magic Flute, Belinda in Purcell's Dido and Aeneas, Amor in Cavalli's L'Egisto, Noémie in Massenet's Cendrillon, Euridice in Rossi's L'Orfeo, and Lazuli in Chabrier's L'Étoile. In 2009, she appeared with Boston Early Music Festival in Monteverdi's L'incoronazione di Poppea, and was commended for performing her roles with "skill and grace" by the Boston Globe. She can also be heard as Marte in Duron's Salir el Amor del Mundo, recorded with Richard Savino and El Mundo.
Artistic Director Craig Trompeter has been a musical presence in Chicago for nearly twenty years as an acclaimed cellist and violist da gamba. He has performed in concert and over the airwaves with Second City Musick, Music of the Baroque, the Chicago Symphony, Lyric Opera of Chicago, Chicago Opera Theater, the Cal Players, the Oberlin Consort of Viols, and Great Lakes Barqoue. He has performed at the Metropolitan Museum of Art, the Art Institute of Chicago, the Glimmerglass Festival, the Brooklyn Academy of Music, and the Valletta International Baroque Festival in Malta. He has appeared as soloist at the Ravinia Festival, the annual conference of the American Bach Society, with the Chicago Symphony Orchestra, and with Music of the Baroque. Trompeter has recorded works of Mozart, Biber, Boismortier, Marais, Handel, Greene, Henry Eccles, and a potpourri of Elizabethan composers on the Harmonia Mundi, Cedille, and Centaur labels. As a modern cellist, Trompeter was a founding member of the Fry Street String Quartet. He premiered several chamber operas by MacArthur Fellow John Eaton, performing as actor, singer and cellist. He has taught master classes at his alma mater, the Cleveland Institute of Music, Grinnell College, and the Chicago Musical College. In 2003 he founded the Feldenkrais® Center of Chicago where he teaches Awareness Through Movement® and Functional Integration® Craig has given Feldenkrais workshops throughout the nation in universities, music conservatories, and dance studios.
Meriem Bahri is a self-taught costume designer. After completing a Ph.D. in science in France, she turned decisively to her great passion for costumes. She collaborates regularly with two groups specializing in baroque operas: as costume designer for the Haymarket Opera Company and as assistant to the designer for the Boston Early Music Festival. Meriem has also brought her skills to dance and theater through the Laboratory School, the Beethoven Festival, Elements Contemporary Ballet, International Voices Project and the Joffrey Academy of Dance. After 5 years in Chicago, she'll be returning to France but will continue to design the costumes of the Haymarket Opera Company. An extended biography and details about her work can be found at meriembahri.com.
Zuleyka Vargas Benitez, HOC set designer and prop builder, received her Bachelor's Degree from Virginia Tech and Master of Fine Arts from Louisiana State University in Baton Rouge. Ms. Benitez taught drawing at Iowa State University, University of Missouri at St. Louis, and has lectured extensively on narrative art. She has exhibited her drawings and paintings internationally and is included in numerous national and private collections. In addition to producing fine art, Ms. Benitez works as a designer, decorative painter, and builder. Big Chicks and Tweet in Chicago and Relish in Evanston are a few of her projects accessible to the public. Ms. Benitez is responsible for creating Dapple, Sancho Panza's donkey in HOC's production of Don Quichotte auf der Hochzeit des Comacho, her only regret is that he can't be in every HOC production.
Sarah Edgar is a dancer, choreographer, and researcher specializing in eighteenth century performance. She is the associate director of The New York Baroque Company and choreographer/stage director at the Haymarket Opera Company in Chicago. Her 2013 directing debut with the Haymarket Opera Company, Telemann's Pimpinone, was hailed by Newcity as one of the five best operas in Chicago. With The New York Baroque Dance Company, she has performed at Drottningholm Theater in Sweden, the International Händelfestspiele Göttingen, Danspace at St. Mark's Theater, the Guggenheim Museum, and the Potsdam Sanssouci Music Festival. From 2006-2012, she lived in Cologne, Germany and toured Europe as a freelance dancer, performing in Italy, Germany, Belgium, Switzerland, and France. She has taught master classes in baroque dance at numerous universities in the United States and in Germany, and has given several lectures at symposia for eighteenth century performance. She was an adjunct professor in dance at Northwestern University in winter 2014, teaching baroque dance technique. She holds a BFA summa cum laude in dance performance from The Ohio State University, and an MA in Tanzwissenschaft from the Hochschule für Musik und Tanz Köln.
Lighting Designer, Lindsey Lyddan is thrilled to be working with Haymarket Opera for her first time on this splendid production. She is currently working on Hotel 666 with WildClaw Theatre Company, and her thesis in lighting and scenic design at Northwestern University, as well as, several other productions around town. She has worked all over the city including Steppenwolf, the Goodman, the Lyric, Adventure Stage Chicago, the Cherub program at Northwestern University, the Royal George, and Profiles Theatre. She would love to thank her husband, Bill, for his support in all her endeavors.
Samantha Umstead, wigs and makeup artist, is a graduate of the DePaul University Theater School where she studied costume design and art history. She is a licensed cosmetologist who does hair and makeup throughout Chicago for film and photography. She has worked at the Chicago Shakespeare Theater for three seasons as a wig maker. She is extremely excited to once again be working with the Haymarket Opera Company.
Russell Wagner, HOC master carpenter, prop craftsman, electrician, and heavy coordinator studied early music performance with Ben Bechtel at the College Conservatory of Music in Cincinnati. He is a frequent performer on the viola da gamba in Chicago's early music community. Wagner is a leading repairer and adjuster of cellos in this country, working from his Evanston studio, Chicago Celloworks.
Jeri-Lou Zike is a versatile, energetic musician who enjoys a variety of artistic activities in symphonic, baroque, and chamber music. She is principal and founding member of the Metropolis Symphony Orchestra and principal second violin of the Chicago Opera Theater. She is also a member of the Chicago Philharmonic, the Joffrey ballet orchestra and the Ravinia Festival Orchestra. She is a frequent performer on the Handel Week Festival concerts in Oak Park. As a period instrument performer, Ms. Zike is concertmaster of the Haymarket Opera Company which she manages alongside the General director, Craig Trompeter, cellist. The opera company is taking Chicago by storm in its fifth year and according to all the critics, the praise for its quality is of highest caliber. Other musical credits include concertmaster of the University of Chicago Rockefeller Chapel Concerts, Chicago Bach Ensemble as well as performances with His Majestie's Clerkes, Kansas City Music Consort, Baroque Band and Music of the Baroque's first period instrument concert. Ms. Zike is also a well-regarded contractor of musicians, providing orchestras for the Apollo Chorus, Chicago Chorale, the Cathedral Singers, and Rockefeller Chapel choirs among others. Jeri-Lou Zike has recorded with GIA, Centaur, and Cedille Records. To balance the intensity of music making, Jeri-Lou loves to swim, bike and run and is a five time Ironman.